Lijstenmakerij Akkolades is sinds jaar en dag de lijstenmakerij in Den Haag. Kunsthistorica en papierrestaurator Viola de Roo, schilderijenrestaurator Anna Orkowska, econome in spe en lijstenmaker-assistent Tian van der Giessen en assistent Qian Xia heten u daar welkom, voor het uitkiezen van lijsten en voor de restauratie van uw kunstwerken.
De lijstenmakerij Den Haag is geopend op:
– maandag en dinsdag tussen 10:00 en 14:00;
– woensdag gesloten;
– donderdag, vrijdag en zaterdag tussen 10:00 en 17:00.
Bij contact kunt u zien wie wanneer aanwezig is.
For decades, Lijstenmakerij Akkolades has been the frame shop in The Hague.  Art historian and paper conservator Viola de Roo, former owner Anja Wagenaar, future economist and framemaker assistent Tian van der Giessen and assistent Qian Xia welcome you, for choosing your frames and for restoring your works of art.
The lijstenmakerij Den Haag is open on:
– Monday and Tuesday between 10:00 and 14:00;
– Wednesday closed;
– Thursday, Friday and Saturday between 10:00 and 17:00.
Go to contact to see who is present when.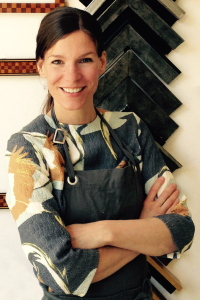 Viola de Roo heeft kunstgeschiedenis gestudeerd aan Universiteit Leiden. Het overnemen van Lijstenmakerij Akkolades in 2008 was voor haar een vanzelfsprekend vervolg op haar studie, omdat haar werk daarmee een praktische verdieping van haar interesse in kunst werd.
Viola de Roo studied art history at Universiteit Leiden. For her, taking over Lijstenmakerij Akkolades in 2008 was a self-evident continuation of her study, because the practice of it would deepen her interest in art.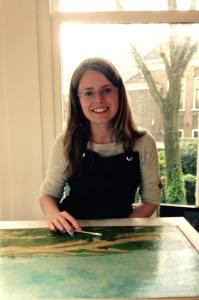 Anna Orkowska heeft haar masteropleiding tot schilderijenrestaurator gevolgd aan de Kunstacademie in Warschau. De liefde trok haar naar Nederland. Dat ze inmiddels vloeiend Nederlands spreekt, toont haar doortastende en perfectionistische karakter. En maakt het mogelijk dat ze haar werkervaring in o.a. het Nationaal Museum in Warschau, en haar grote kennis over schilderijenrestauraties, hier kan delen.
Anna Orkowska got her master's degree as a painting restorator at the Art academy in Warschau. Love drew her to The Netherlands. Meanwhile her Dutch is fluent, which shows her determined and perfectionist character. And which enables her, to share us here, about her working experience in a.o. the National Museum of Warschau and her large knowledge of painting restorations.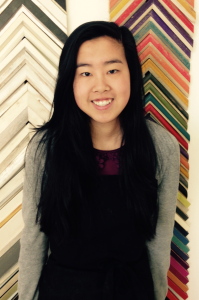 Tian van der Giessen promoveerde binnen een week van oppas-buurmeisje tot lijstenmaker-assistent, dankzij haar inzet en precisie. Inmiddels is Tian een onmisbare schakel in de lijstenmakerij geworden. Haar ambitie om econome te worden, raakt geprikkeld door het MKB in de praktijk mee te maken.
Within a week, Tian Van der Giessen got promoted from being the next-door babysitter to assistant frame maker, thanks to her effort and precision. In the meantime Tian became a vital link for the frame shop. Her ambition to become an economist,  is stimulated by experiencing the SMEs in practice.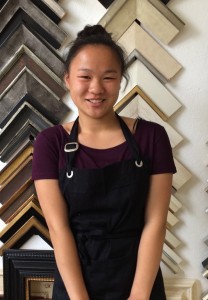 Qian Xia van der Giessen heeft dezelfde leergierigheid als haar oudere zus. Qian Xia zit nog op de middelbare school, maar is bereid om twee dagen in de week hard mee te werken. Ondanks de grote verscheidenheid van de klussen die er gedaan moeten worden, vat ze de koe altijd bij de horens.
Qian Xia van der Giessen has the same desire to know as her older sister. Qian Xia is still a Secondary School student, but she is willing to work with great effort for two days a week. Despite the big diversity of jobs that need to be done, she always grasps the nettle.